Percussion massagers are becoming more and more popular with many people using them for a whole host of benefits that traditional electric massagers are unable to provide.
A percussion massager is a great tool for loosening up taut muscle tissue, knotted fascia and other similar related issues.
The deep tissue massage these kinds of devices provide on virtually any muscle in your body can help with pain relief, muscle misalignment, post-workout soreness and pre-workout injury prevention.
If you're new to the game you may have never heard of 'Theragun' but they are one of the leading brands in percussion massagers set apart most noticeably by the high price of their massagers.
The Theragun PRO is their latest percussion massager and supposedly their top of the range product.
If you're interested in buying a Theragun PRO you're likely wondering if it's worth the money or if you should go with a cheaper brand?
Luckily for you in this Theragun PRO review, this is the question I look to answer as I try it out for myself.
In this post, we'll dive into everything you need to know about the Theragun PRO such as how it works and what makes it so special.
I'll also take you through the unboxing and my own experiences of using the Theragun PRO and answer the most important question – should you buy the Theragun PRO?
What is the Theragun PRO?
The is Theragun PRO is the upgraded version of the G3 PRO.
Out of all the percussion guns in Theragun's line, the PRO is the most advanced, albeit most expensive.
However, the high level of intensity it offers, as well as its quality, durability and customization features, supposedly make the PRO the crème de la crème of percussion massage guns.
What's Included with the Theragun PRO?
Theragun PRO device
Carry Case
2 x Lithium-Ion Batteries
Lithium-ion Battery Charger
6 Attachments
Attachment Pouch
How Does the Theragun PRO work?
The Theragun is a percussion massage gun, which works by driving continuous pulses putting high amounts of pressure into your muscle tissue.
With a massage gun like the Theragun, it's easy to pinpoint and release small, specific trigger points almost anywhere on your body.
You can dictate which area you want to loosen up by feeling around for it and honing in on what feels tender or taut.
Use the Theragun PRO for just 30 seconds in each area that feels stiff or achy to release tension, increase range of motion and reduce inflammation and pain.
With its high level of force, it goes to work relieving tightness and inflammation, which cause poor circulation, stiffness and pain.
You can quickly relieve muscle soreness in large muscle groups like the quads, glutes and hamstrings very rapidly, helping you warm up and recover from workouts in record time.
The result is a deep tissue massage, achieved simply with a hand-held electronic device and no bodyweight or exercise movements are needed.
With its ergonomic design, the Theragun Pro grants you the ability to be your own masseuse and work on virtually any part of your body on your own.
With its portability, you can take it to the gym or bring it to the airport on your trip for use on the go.
Things to Consider Before Buying a Percussion Massager/Massage Gun
If you've never bought a percussion massager before there are a few things you should keep in mind before buying one.
Your Needs
Using a percussion massager as a self-massage tool for myofascial release and kneading out muscle knots improves your health and posture, but there are also many other benefits.
Here's a quick overview of the major advantages you get from using a massage gun:
Improve exercise performance and prevent injuries when used before workouts
Faster muscle recovery after workouts and less muscle soreness
Relaxes muscles and eases tension
Increases your flexibility by giving muscles a gentle stretch and increasing your range of motion
Improving blood flow, especially where knotted tissue has caused stagnation
Lowered stress hormones and increased endorphin release [1]
If you are looking for any of these points then a massage gun should be the product you are looking for.
Power
Percussion massagers adopt a 'hammer' like massage where the head of the massager will vibrate at high speeds as you adjust its position over your body.
Percussion massager brands typically seek to build products that deliver the most power in order to hit and release the deepest and hardest to release trigger points.
Depending on the power of the device, a percussion massager can be painful to use especially if you've never massaged before or have a lot of tightness and soreness in your body.
For a massage gun to feel great and do its job, you have to find the right massage gun with the right type of power that you need.
Noise
With added power comes noise. Typically the more powerful the massager the louder it is.
Massage guns are notoriously loud.
If you are looking for a quiet massage then you may be better off with a shiatsu massager or a manual massage tool.
Battery Life
Since massage guns are designed to pack a lot of power while remaining light and portable, the battery may become easily drained during a session.
Ideally, you want a massage gun to have a battery that doesn't drain too quickly. In addition, it should be quick to charge to full battery without becoming overly fiddly.
Durability & Warranty
The most powerful percussion massagers are built with powerful motors that deliver a lot of power. You want to make sure that the percussion massager you buy is built to last.
If it comes with a long-length warranty, risk-free trial and good customer service, you're on to a winner!
Main Features & Benefits of the Theragun PRO
When shopping around for percussion massage guns or other self-massage tools and devices, you might ask yourself: is the Theragun Pro really worth the price tag?
There are cheaper options on the market, so what makes the Theragun Pro so special?
Here are a few of the unique selling points that Theragun feel sets their product apart from the rest of the other percussion massagers.
1. Triangle Ergonomic Handle & Adjustable Arms
A massage gun can be difficult to use if you're trying to hit hard-to-reach areas on your body.
The Theragun is designed with a new patented ergonomic handle which makes reaching all parts of the body much easier than before.
It's a hollowed triangle shape, so you hold onto it with your grip more like a bar instead of a handle, and there are 3 different sides you can grip it from to apply pressure from different angles.
It also has adjustable arms that can move to 4 adjustable angles, the device gives you plenty of reach to use on muscles throughout your body.
2. Powerful 60lbs of Force
There is a common complaint that many massage guns do not pack enough power to truly break up knots and tightness.
In particular, users complain that some massage guns do not hammer hard enough on their muscles to provide them with adequate relief.
The Theragun PRO comes with five treatments speeds with the highest speed delivering up to 60lbs of force.
Since the Theragun PRO can throw as much as 60 pounds of force at you with each and every pulse, this makes it one of the more powerful percussion massagers on the market to aid in releasing knots and cramps.
The intensity level the Theragun Pro offers is unparalleled, making it a great choice for anyone who needs more power behind their massage and find most other tools too weak.
3. New 50% Sound Reduction from Previous Models
When reading the reviews of various percussion massage guns, you'll notice that most of them mention extremely loud noise levels that bother users.
Theragun state that they have a new proprietary gearbox which has resulted in a 50% sound reduction to their earlier models.
Reduced noise means a more relaxing and stress-free environment; something which is important in relieving stress and tension in the body.
4. Quality Build & Warranty
The Theragun Pro is built with quality materials that last and make the device a long-term investment.
If you frequently need to rely on a good massage to relieve muscle pain or help your sore muscles recover after training them, the Theragun Pro is designed to be durable enough for the job.
Physical therapists tend to rely on the Theragun Pro because its performance doesn't change despite frequent, ongoing use with multiple clients.
The Theragun PRO also comes with a 2-year warranty.
5. Includes 6 'Precisely-engineered' Pro Attachments
The Theragun PRO comes with 6 attachment heads each designed for specific areas.
The main head on the Theragun Pro is semispherical, but it comes with five other attachment heads you can interchange.
Other attachment heads are spherical but in different sizes so that you can select the right size for each trigger point or muscle you're targeting.
There's also a conical attachment head for honing in on your smallest trigger points, such as tiny knots along your back or in your shoulder joint.
One of the new attachments is a 'Supersoft' one designed specifically for bony areas.
Theragun PRO Review
Now that we've got past the overview now over to the hands-on review.
Before we start it's always a good idea to outline what I am looking to get out of the Theragun PRO as this will differ from person to person.
This will also reflect the final recommendation.
I'm not a professional athlete nor a massage therapist but rather an average guy who works out daily to improve fitness, flexibility and mobility levels, so I'm just looking for the basics.
I tend to suffer from a lot of tightness in the body so I love trying all kinds of massage tools that can potentially unlock more tightness and increase flexibility in new areas.
This is what I was hoping to achieve when purchasing the Theragun PRO.
The Contents
I've tried a fair few electric massagers before but not many brought the kind of excitement and anticipation as to when I got my hands on the Theragun PRO.
For one, it's expensive so I am expecting to be impressed.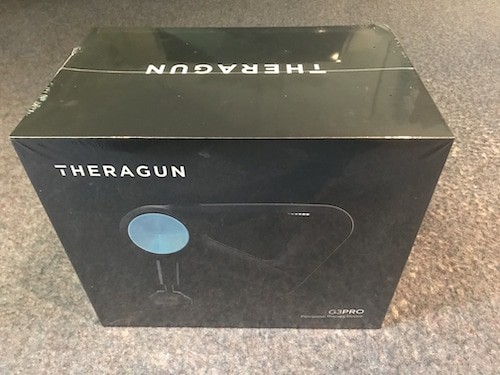 When it first arrived my first impressions were that the presentation level was very high.
The box, case, chargers and all the accessories were very well made and the type of quality you'd expect when buying something like a high-priced Apple product.
On opening the box the first thing in the way is the travel case. Likewise, it is very well made and the stitching is of high quality.
Once inside, the number of accessories included doesn't overwhelm you like some massagers that come with many parts.
It's very easy to get started and make sense of how everything goes together.
The Theragun PRO also comes with another case which holds all the attachments.
Even though this is such a simple idea it gets huge bonus points with me.
I've found that most other massagers do not include a way to hold all their attachments together. If you own many massagers, it's easy to get all the heads mixed up with each other!
Bonus points for this.
The attachments are also well made and designed. They are cushy and have a soft and padded feel about them.
As far as presentation and first impressions go, the Theragun PRO gets full marks.
Using the Theragun PRO: First Impressions
Getting started with the Theragun PRO couldn't be easier. Simple lift up a catch on the handle, then insert a charged battery.
Next, stick the attachment of your choice on the end and you're ready to go.
After turning it on and holding the Theragun PRO in my hand I noticed how much it feels like a power tool rather than a massager.
The noise it makes and its rhythm is somewhat like a small portable jackhammer.
And like any jackhammer it's loud.
It almost sounds exactly the same as a power sander or a power drill.
I like to describe the type of level of noise a massager gives off in terms of whether you can use it while watching TV… with the Theragun PRO you definitely would not be able to use it when watching the TV (at least not at the highest setting).
Even if you put your TV to a very high volume you would still have difficulty.
In terms of power, It is very powerful.
I placed it on my calves and immediately felt that it had already found untouched trigger points that I couldn't release with all the other massage tools I've tried.
It did produce discomfort while using it on those areas, but it's the good kind of discomfort and shows that the Theragun PRO is doing what it is intended to do.
I continued to try the Theragun over other areas and I was experiencing much the same thing as I was on the calves.
The Theragun PRO was managing to find new areas I had been unable to unlock tightness from and at the same time, I could feel it was nicely promoting blood circulation to these areas. It felt good for sure.
Overall my first impressions were good and I was looking forward to seeing how I would get on with it for the next few weeks.
Using the Theragun PRO for a Month
After owning the Theragun PRO for a month or two I've come to an overall idea of how well it works and how best to use it, at least in my own case.
It's hit most of those trigger points and tight areas in my body that I knew existed but could never quite find a way to release them, particularly around the back of my waist and lower back area. It also worked well on sore muscles.
It has also proven to be effective along the inner thigh and adductor area which is notoriously hard for me to release using a foam roller or a massage ball.
Other areas it worked well for me were the calves, triceps and forearms.
It was also amazing around the lats and upper traps which are areas I tend to struggle with a lot of tightness.
As a rule, I found it effective in areas that are slightly inconvenient or ineffective for a foam roller.
After a few weeks of use of the Theragun PRO in these areas it has dramatically removed chronic tightness that I had in these areas and I am still seeing improvements as I continue to massage away at these areas.
At first, it was very sore when using the Theragun PRO on these areas, but over time it got less and less painful and I could use it for longer periods.
If you are worried about the initial power being too overwhelming, you do get used to it eventually.
The Design
In terms of design, I did notice that it can get quite heavy over time especially if you are targetting an area that isn't as accessible as other body parts for example if you are using it on your glute area or lower back.
The weight seems to be slightly weighted towards the front so you need a bit of forearm strength to hold the Theragun PRO.
I imagine some users will find the Theragun PRO to be a little on the heavy side.
From my point of view, I didn't see any real advantage in the Theragun Triangle ergonomic designed handle nor the ability to move the adjustable arm into its 4 potential positions.
For starters, the triangle handle can only be held on two of the three supposed handles as the one that holds the battery (the one with the logo) gets too hot to hold as it has a heat vent on it.
Regarding the adjustable arm position never once did I find the need to adjust it. The best position is the default one.
In fact, I prefer the traditional massage gun 'hammer' type design with one long handle as it's more comfortable to hold and more evenly weighted.
All in all, though, the design is fine but there's nothing overly special that gives it an edge over other massage guns.
Battery
After some tests I did notice that the battery does run down pretty fast.
I haven't timed the battery life accurately, but I would guess that for me it runs around 30 minutes before a fully charged battery becomes drained on the highest speed setting.
This is nothing like the 150-minute battery life that Theragun has advertised.
Luckily though, the idea of having two interchangeable batteries and a stand-up charger makes up for this.
You can quickly switch over the battery as long as you always make sure you have a fully charged battery on standby.
Using this approach I have never found it much of an annoyance that the battery does drain quite quickly.
It's also a positive that it does not take long to charge a drained battery (my guess 1 hour?).
If you plan to use the Theragun PRO on a daily basis then you'll have to make a permanent space for it to make sure your charger is plugged in at all times.
With other massage guns, I've found that you can take out the charging equipment once a week to charge it up, but this is not so with the Theragun PRO.
That being said, I have no real issues with the battery life as I always have a spare one on standby.
I also did notice that the battery indicator seemed to be a little unreliable.
The Theragun PRO has lights on the handle which indicate how much charge it has left.
For me, the lights did go down gradually however as soon as it hit two lights remaining (out of six) sometimes the Theragun PRO would suddenly run out of battery.
Noise
Another note is if you are looking for something quiet, do not buy the Theragun PRO.
Especially if you only plan on using the most powerful setting.
If you live with other people and plan to use this early in the morning or late at night while people are still sleeping, I think you will have trouble trying to conceal the noise.
Given that Theragun say that this model is quieter than the previous models I would imagine you would have had to use earplugs with the earlier versions!
If you plan to use the Theragun PRO while chilling out and watching TV or listening to a podcast then it's simply going to be too noisy for this kind of thing.
Some of the other massage guns on the market are much quieter, however, you may have to give up potential power.
Should You Buy the Theragun PRO?
Overall the Theragun PRO is a really good massage gun.
I love all the improvements I have seen in my own body while using it long-term.
By using the Theragun I have dramatically loosened up a lot of chronic tightness in various muscles around my body.
I've also improved my range of mobility in certain joints.
I also love the power that the Theragun possesses.
The Theragun PRO has the ability to provide a 'thumping' massage which a lot of other massage gun's I've tried are unable to replicate.
This is the best way to describe the type of massage it provides and the reason it works so well for me.
The various attachment heads that come with the Theragun makes it incredibly versatile too.
From attachments heads with large surface areas all the way to ones with tiny heads you should be able to find the type of massage head you need.
However, despite the Theragun's incredible power, beautifully crafted accessories and its effectiveness it isn't the perfect package.
The main problem with the Theragun PRO is that it is overpriced.
If you look closely there isn't really anything overly unique about the Theragun.
There are other massage guns on the market that also have various speed settings and come with plenty of attachments.
And there are also some massage guns that equal the 60lbs of force the Theragun PRO provides.
What's more, is that many of these massage guns cost a fraction of the price of the Theragun PRO.
The only thing that stands out about the Theragun over other massage guns is that there is a noticeable jump in the overall aesthetics and quality of the accessories.
Theragun, now Therabody, also have a big budget which helps them market themselves as a premium brand, which allows them to raise their prices higher than they really should be.
You can't really fault the Theragun as it does exactly what it is supposed to do.
I just feel that at its current price of $600, it is priced too high.
In my opinion, it is the best massage gun on the market but not necessarily the best value.
Would I buy one again?
Despite what I've said, If something happened to my current Theragun PRO and I could no longer use it for some reason I think I would buy another one.
The only thing is that I would wait for it to go on sale and not pay the full price again.
Pros
One of the most powerful massage guns on the market
Effective for shaking up the muscles
Sturdy and well built
Plenty of attachments
Good quality accessories
2-year warranty
Cons
Expensive
Noisy
Maybe on the heavy side for some people
Related: The Best Massage Guns in 2022