The use of massage guns has increased over the past few years, thanks to their convenience and effectiveness in deeply penetrating muscle tissues.
These devices are designed to promote proper circulation, accelerate recovery and warmup as well as relieve sore, tight muscles.
One such device is the Hypervolt massage gun by Hyperice, which boasts such features as having been designed by rocket engineers as well as other several unique attributes.
The Hypervolt is considered one of the best of its kind, comparable to Theragun, one of the leading brands in percussion massagers.
If you're interested in buying a Hypervolt, but you're not sure if it's worth your money, we'll share all the details needed to help make up your mind.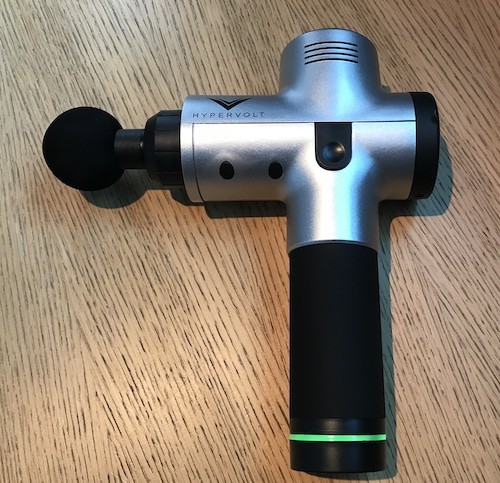 We'll also put the Hypervolt to the test and give you our answer on the most important question: Is the Hypervolt worth the money and should you buy it or not?
The Company: Hyperice
The Hypervolt cordless device is manufactured by Hyperice– a company that is known for its ability to design innovative, cutting edge technology in the field of orthopaedic and sports medicine.
The devices are created by engineers and physical therapists and are aimed at enhancing joint and muscle movement and accelerate recovery.
In 2010, Hyperice set out to create the world's first high-performance, portable ice compression device.
Since then they've continued to introduce breakthrough technology to top athletes in different sporting arenas.
The company got a major push in 2012 when quarterback, Mark Sanchez bought an equity stake in the company and has since gotten many pro athletes such as Blake Griffin from the L.A Clippers, Olympic skier Lindsey Vonn, and soccer player, Hope Solo to invest in the company
Furthermore, NBA superstars Lebron James and the late, Kobe Bryant are also supporters of these products.
In 2016, Hyperice made the top 5 list of Inc Magazine's most innovative companies in the United States.
The company sells a range of other products to include the Hyperice knee, which is a two-part cryotherapy device, the Vyper 2.0, a powerful, German-engineered foam roller, and the Hypersphere mini, a powerful massage ball that offers a therapeutic, vibrating massage.
What is the Hypervolt?
The Hypervolt is the predecessor to the Hypervolt Plus (we'll take a brief look at this a little later on).
This ergonomically designed massager promises to relax fascia and tense muscles, improve blood circulation and shorten the recovery time of muscles by delivering deep and powerful vibration stimulation.
It is easy-to-use for self-myofascial release and has 3-speed settings —delivering up to 3,200 pulses per minute at its highest level.
It was specifically created to accelerate warmup and recovery, and works for athletes and non-athletes alike, guaranteeing a deep tissue massage for sore and stiff muscles.
Its small size and lightweight feature makes for easy travel, so you can massage or alleviate pain on-the-go.
The Package: What's included with the Hypervolt?
Inside the contents of the Hypervolt package you'll get:
The Hypervolt unit
5 interchangeable head attachments
AC/DC wall charger
Hypervolt battery
As for the Hypervolt Plus, it includes all the features of the Hypervolt, including the precision design, intelligent responsiveness, and Quiet Glide technology.
The plus version, however, delivers 30% more power, thanks to the 90W high-torque motor.
Interestingly, the battery life of the plus does not live up to that of the Hypervolt, offering 2.5 hours, while the Hypervolt offers 3.
While still considered lightweight, the plus is a little heavier than its predecessor at 3 pounds while the regular Hypervolt weighs in at 2.5 pounds.
Things to Consider Before Buying a Massage Gun
There are many benefits to be gained by using a percussion massager including the relaxation of fascia and tense muscles, relieving sore and painful muscles and accelerating blood circulation, just to name a few.
Here's a brief overview of what to pay special attention to, before investing in a massage gun.
We will also use these criteria to rate the Hypervolt.
Weight/Comfort to Hold
Since this is a hand-held massage gun, weight and comfort are of utmost importance. Devices that are too heavy might not be ideal for older or slightly weaker persons.
Also, massage guns are available in different designs, which plays a role in the comfort level; if the tool is not comfortable in your hand, you won't be able to use it long enough to achieve the desired benefits.
Power
The device must be powerful enough to deeply penetrate the muscles, however newbies, older persons and those who are particularly sore may need to opt for a massager that doesn't deliver too much power.
Athletes and those with experience using these devices may prefer more high-powered tools.
Battery Life
The battery life will differ based on the type of battery used in the device.
Some are built-in and require charging after a certain time span while others require you to change the batteries completely.
If the battery is not interchangeable you want it to have a good battery life and not run out during a massage session.
On the other hand, if it does drain quickly you want the battery to be interchangeable so you can slot in a fully recharged battery when you need it.
Noise level
If you require a massager for relaxation purposes then the noise level certainly matters.
But keep in mind that because massage guns generally deliver more power than other types of massagers, they are notoriously noisy, some more than others.
Attachment Options
Attachments are important since they offer various levels of massage and also target specific areas of the body.
If you are an athlete or have problem areas throughout the body, this is an important feature to note.
Quality and Warranty
Given the high price tag on some of these massage guns, it is important that you are getting a high-quality product that will last a long time.
Also, pay close attention to the company's warranty and return policy.
Main Features and Benefits of Hypervolt
These days, there are various types of percussion massagers on the market, so why should you choose Hypervolt?
Let's look at some of the most enviable features and benefits of this product.
Quiet Glide Technology
Massage guns are known for being noisy since they deliver more power than regular massagers.
However, Hypervolt uses a powerful, high-torque motor— featuring a Quiet Glide technology without the high-power tradeoff.
5 Attachment Heads
Hypervolt comes with 5 interchangeable head attachments to take care of each muscle group.
The round cushion head is the softest and is best for relieving tension in your quads and traps, while the flatheads are designed to target soreness in the chest, calves and related muscle groups.
Additionally, you can pinpoint tension areas around the forearm, and soreness in the feet by applying the fork attachments.
Offers 3 Adjustable Speeds
This massage gun offers 3 alternative speeds, allowing you to customize your massage experience to activate, loosen or soothe the muscles.
Hypervolt can deliver up to 3200 pulses per minute on its highest level, 2400 pulses on level two and 1800 pulses at its lowest speed.
Lightweight and Travel-Friendly
At just only 2.5 pounds people of different ages and fitness levels can use this device, and its small size, allows for easy travel so you can take it with you wherever you go.
Long Battery Life
The Hypervolt massage gun utilizes a rechargeable and removable lithium-ion battery, offering over 3 hours of use per charge.
Quality and Warranty
Hyperice offers a one-year warranty in the event that the product has a defect due to the material or workmanship.
They will repair or replace your product, or any necessary components, free of charge. Conditions apply, so read the warranty info carefully before purchase.
Out of the Box: First Impressions of the Hypervolt
Now that we've got all the specs out the way, let's dive into the product review of the Hypervolt.
But before I start it's important to point out that the review will be from a 'personal use perspective.
I do not have clients, nor am I a physical therapist or a personal trainer.
I am testing the Hypervolt on myself to see its effectiveness in releasing trigger points, tension and improving mobility.
I've tested quite a few massage guns before and I was looking forward to getting my hands on the Hypervolt as it is one of the main brand names when it comes to percussive massage devices.
On opening the box there isn't too much to get excited about.
The Hypervolt unit and all its attachments and chargers are placed inside the plastic cutouts in the box.
It certainly lacks the presentation and packaging standards that the Theragun PRO offers.
On inspection of the main unit, I was surprised at how big it was. It was a little bigger than I expected but it's still of a reasonable size.
It did feel a little on the heavy side but I do favour the extra weight as it means you have to use less of your own force when massaging yourself.
It's also a sign that the quality of the unit is good.

The Hypervolt comes with 5 attachments all made with the same plastic material, with the round attachment being made of a foam-like material.
There was nothing to get excited about the quality of the attachments, they are just like that of any other massage gun you'll find on the market.
At the end of opening up the Hypervolt I was a little underwhelmed especially regarding the hype it gets but was hoping that the quality of the massage and the unit would make up for all this.
Using the Hypervolt and the Massage Experience
The Hypervolt gets top marks for simplicity of use.
There's a switch at the bottom that is either set to off or on.
Once it is on, you control the speeds by pushing the button on the back of the unit.
Push once for the first speed, twice for the second speed and then a third time for the final speed.
All of this information is signalled to you via the fancy lights on the Hypervolt.
There are also three white lights which are the new pressure sensors to indicate how much pressure is being applied as you push down on the Hypervolt.
The harder you push the more lights that show.
Switching attachment heads on the Hypervolt is just as easy as starting it. All you have to do is pull the heads off and push on the head of your choice.
All the heads fit snuggly onto the Hypervolt so there is little risk of them popping off during a massage.
All in all, the Hypervolt is easy to use and anyone can pick it up and understand how to use it right away.
The other important factor is that it is indeed quiet.
It does give off a little noise, but not so much that you wouldn't be able to watch TV or talk to someone while using it, unlike many of the other massage guns.
This is one of the main benefits of the Hypervolt.
But what about the massage experience?
The Hypervolt offers what I consider a very smooth and consistent massage.
The motor runs well and it should be powerful enough for beginners to percussive massagers.
The attachment heads do their job and you can get enough of a mix of different massages using the 5 different attachments.
In general, the Hypervolt is a well-built device that can provide a solid massage experience and loosen up muscles in the process.
However, in my opinion, the Hypervolt proves to be an extremely underwhelming massage gun given how much it costs and the hype it gets.
In the past, I have used a lot of different electric massagers, myofascial release tools as well as massage guns in a bid to loosen up tightness, knots and painful spots, so I would say I am fairly 'massaged out.'
This means that I need a little more percussive power to feel any real benefits. The Hypervolt simply didn't provide the type of power I need.
However, I do understand that how much benefit you get from a percussive device is usually dependent on how tight your muscles are or how much you have massaged in recent times.
Roll back two years ago and the Hypervolt would have been very effective and be the type of massage gun I needed.
In this respect, the Hypervolt is a good massage gun that will benefit many, particularly those who do not need anything too powerful.
My biggest issue though is not necessarily over its effectiveness or the power, it's the price of the unit and the overhyping of its features.
This is more apparent given the recent surge of competitor massage guns in the marketplace.
One of the big selling points Hyperice makes about the Hypervolt is that it is designed by 'Rocket Engineers.'
I agree it's a nice unit, but it doesn't have anything unique about its design over cheaper competitor units.
Another feature is the Quiet Glide™ technology it comes with which supposedly enables the Hypervolt to be able to reach high power without making too much noise.
Again I agree it is quiet, but I have used other cheaper massage guns which have just as much power and give off the same amount of noise as the Hypervolt.
In addition, the Hypervolt has been revamped with a new 'pressure sensor' which lets you know how much pressure you are applying by indicating it to you via light signals.
For Hypervolt owners who are going to be using it on themselves, this feature is pretty pointless.
I don't know why this feature is needed as I can tell how much pressure I am putting on myself because I can feel it for myself.
It has been said it has been designed with the professional massage therapist or physio in mind so I can't really judge the sensors in their usefulness in that respect.
I doubt it's that useful as I am sure you can tell how much pressure you are putting on a client based upon how hard you are pressing down.
In addition, the quality of the attachments are no different to what you would get with any other mid-priced massage gun.
They are all made of standard plastic.
A Quick Illustration and Comparison
The Hypervolt costs between $100-$200 more (this varies according to time of year) than the PlayMakar MVP Percussion Massager despite the fact that there is not much difference between them.
The Hypervolt comes with 5 attachment heads and the PlayMakar MVP Percussion Massager comes with 6. There is also little difference in the quality of the attachments.
In terms of maximum power there is not much difference either.
In fact, the PlayMakar MVP Percussion Massager comes with 6 adjustable levels and the Hypervolt has 3 levels, and they both give off the same level of noise.
Furthermore, the Hypervolt has a 1-year guarantee whereas the PlayMakar MVP Percussion Massager has a 2-year guarantee.
I am not saying that cheaper model massage guns are equal to, or better than the Hypervolt, I am simply trying to make the point that the Hypervolt should not be priced so high relative to the competition.
What Do Other Users say about the Hypervolt?
Users of this massage gun highlighted their pros and cons.
On the upside, it is a good pick for athletes, pro-athletes and persons who live an active life; they found it easy-to-use and many declared that it was effective in relieving tight knots throughout the body.
It is also revered by several users of different age groups as a good tool for pain management.
Athletes and non-athletes also seemed to appreciate the speed levels while noting its compact size and long battery life.
Users agree that the main con is the high price tag, which is quite hard to ignore.
Many buyers have noted that there are less expensive options to choose from, with similar if not better features (which I have already illustrated).
Another con is that even at its lowest level the power is too much for some persons, especially those who want a relaxing massage, those who are elderly and persons who are novices at percussion massage devices.
The weight was an issue for a few buyers as well; they found the item too heavy, despite it being advertised as lightweight.
What are Some Alternative Products?
If the Hypervolt's features aren't convincing you to make a purchase, there are some other alternatives to consider.
You can try the Hypervolt Pro if you need a massager that delivers more power while offering the same whisper-quiet technology.
The battery life on the plus is shorter than Hypervolt at 2.5 hours of use.
The Theragun PRO is another selection to consider. It is more powerful than Hypervolt, but the trade-off is that you won't get the whisper-quiet feature that Hypervolt offers.
This tool is designed to reach 60% deeper into the muscles than other massagers, but it also comes with an even higher price tag than Hypervolt.
Another good option is the PlayMakar MVP percussion massager which sells for half the price of the Hypervolt.
It boasts 6 intensity levels, and 6 interchangeable attachments—offering a low-noise solution, but with similar power.
The Important Question: Should You Buy the Hypervolt?
When compared to other massage guns on the market, this is not the most impressive.
Hyperice boasts that the Hypervolt is designed by rocket engineers but in my opinion, they could have saved the money on the rocket engineers and used whoever designed the cheaper massage guns now on the market, as there is nothing special about the design.
In addition, there are other devices that have more features, attachments and similar power output for half the price of this one.
For what it offers this massage gun is overpriced and given that Hypervolt is not powerful enough for persons who have experience using massage guns, there are better and cheaper alternatives to invest in.
The Hypervolt is a good massager and most people who aren't looking for anything too powerful or noisy will be more than happy with it.
The only issue is that the Hypervolt isn't overly special that it should cost significantly more than the average massage gun.
This is not to say that the Hypervolt is a bad massage gun.
In fact, I think it is better than most of the other massage guns, the only issue is the price (assuming its current price is $399).
If you can get it in a sale or if Hyperice ever does decide to drop the price permanently, then may be a good option.
But until then it's overpriced and there are better-valued massage guns available.
Cons
Overpriced
Not that powerful
Doesn't come with many attachments
Attachments are low quality
Related: The Best Massage Guns in 2022