We all get those pesky little tender spots on our backs from time to time.
The worst thing about them is just how challenging they can be to release.
A back massage cane, or stick, is a tool that makes self-massage simple and easy while allowing you to reach trigger points many other tools can't.
What's more is that these tools can release muscle pain and tension, provide pain relief, promote healing and improve blood circulation.
In this article, I'll look at how a back massage stick works and the different types that are available on the market.
I'll also look at the pros and cons of 7 of the best back massage sticks and canes, and choose one that stands above the rest.
What is a Back Massage Cane and How Does it Work?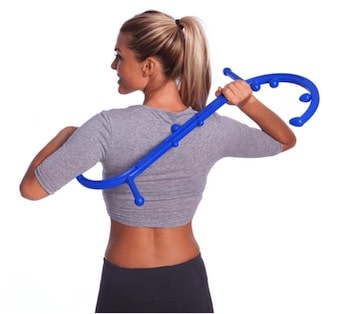 A back massage stick lets you massage and release tension in hard-to-reach trigger points without the help of a masseuse.
Its purposeful design makes self-massage more comfortable and efficient because you can do it while sitting in a chair or standing up.
Each back cane is a little different, but the idea behind them is all the same.
Generally, they have a hook that you loop around your shoulder, back or arm, depending on the muscle you're targeting, and you apply pressure on the other end of the stick.
Typically, you are looking for areas that are particularly tender, known as trigger points, to which you press down on and hold.
With enough time and pressure (and discomfort), the tenderness will subside and you should begin to feel relief in that area.
Most sticks will have multiple knobs and their own unique designs to increase versatility and provide access to the hard to reach trigger points around your body, particularly on your back, shoulders, traps and neck.
Massage Canes vs Other Massage Options
Unlike electric shiatsu massagers, with a massage cane, you have a high level of control over where you're massaging so that you can pinpoint trouble spots and release specific trigger points with better accuracy.
Foam rollers are another popular form of self-massage for myofascial release.
But as opposed to having a flat surface roll over your muscles the way a foam roller does, a back massage cane applies a narrow point of pressure to a trigger point.
This makes it comparable to a masseuse's thumb or elbow, and highly effective for myofascial release.
Whereas you may find a massage chair pad or a foam roller too hard or not hard enough, a massage cane lets you apply your desired amount of pressure on your own.
How to Choose a Back Massage Stick
If a massage stick is what suits your needs, here's what to look for when shopping for one:
Durability and Firmness
The firmness of your massage stick matters, because if it's too lightweight or flexible, you have to work harder to apply adequate pressure.
Some massage sticks even break when too much pressure is applied, so if you want something that will last, look for one made with strong, durable material like polyethylene, and avoid plastic or fibreglass.
Comfort and Ease of Use
The most effective massage sticks are those that make it easy to firmly dig into your muscle tissue with a high degree of control.
The way the stick is designed plays into this, as its shape and structure determine how well it can reach hard-to-reach spots and how easy it is to apply pressure.
Authenticity
When it comes to massage therapy, you can't settle for knock-off brands.
Look for well-established name brands, because they've been tested and proven to work effectively.
Brands that are just trying to copy the name brands usually do so at the cost of quality.
The 7 Best Back Massage Canes and Sticks Worth Trying in 2023
If you suffer from tightness or muscle pain in your back, neck, or shoulders, trying out a massage cane is well worth the investment.
Let's take a look at the best massage canes on the market today.
The Thera Cane Massager is a cane-shaped stick that has 6 knobs for breaking up tension and knots.
Two of the knobs extend out from the cane to act as handlebars, giving you a firm grip on the cane.
Its smooth curves are comfortable on the body, and it's fairly easy to use.
Not only that, but the design of the Thera Cane makes it extremely comfortable to hold.
Although this massage cane weighs 2 pounds, it can break easily and has snapped in half at the hook curve for many users.
When using the Thera Cane I found that it did tend to feel a little 'springy' and that if I pushed extremely hard it could break (however, it does come with a warranty that covers 2 years).
That being said, I feel the Thera Cane is most suitable for anyone who is extremely sensitive and looking for a gentler experience at releasing their knots.
Related: Thera Cane review
Pros
Comfortable
Easy to grip and control
2-year warranty
Cons
Can bend and break under too much pressure
Rather than a straight stick with a hook, the Backnobber is an S-shaped massage tool.
It's made of fibreglass reinforced nylon, and what's unique about it is that it breaks down into half its size when you need to travel with it.
Its minimalist "S" design helps you target any muscle in the body, and it comes with a guidebook with images on how to do so.
There's a knob at each end of the "S" for massaging, which is more simplistic than other massage canes containing several knobs.
If you're looking for something that's simple and easy to travel with, the Original Backnobber II may work for you.
However, you may find the material less firm than many other canes, which means you have to put more effort in to push into the muscle or trigger point you're targeting.
Pros
Highly portable since it can be detached in the middle
Money-back guarantee
Simple and easy to use
Cons
Some users find the material "cheap" or plastic-like
The Q-flex is even more minimalist and simplistic than the Original Backnobber II, as it has just one knob at the end of a hook.
On the opposite end, it has a padded handle for comfortable gripping.
It's designed for hard-to-reach acupressure points and comes with a guide for how to hit them.
Given how simple it is, it only really works on the traps and back. If you want to use your back massage stick on other areas of the body, you'll need a massage stick with more nodes.
Another drawback is that it's made of plastic, which gives it too much flexibility when you're trying to use it very firmly.
The weak material requires you to work harder to press the knob into tight muscles, and I can imagine that if you press too hard it's going to break.
Unfortunately, this product doesn't allow returns, so you need to be sure it's for you before you go for it.
Pros
Simple and easy to use
Affordable
Designed to be effective on the back
Cons
Too flimsy
Only suitable for trap and back area
The Original Body Back Buddy is an S-shaped tool with 11 knobs.
One thing that makes the Back Buddy massage cane unique is that it's made of high-density polyethylene, which is very durable and long-lasting.
It won't get damaged from use in the shower–a practice that can help you loosen muscles more effectively.
It's stronger and heavier than most massage canes, weighing in at 1.25 pounds, so you don't have to work as hard to put pressure on your muscles.
The other unique thing about it is that it contains 11 knobs so that you can hit more pressure points at a time.
These knobs are placed accurately in a way that is designed to access every pressure point in the body.
This massage stick is built to last a lifetime, and since it's been manufactured since 1995, many physical therapists and fitness trainers are knowledgeable about how to use it.
However, it can be somewhat difficult to figure out on your own due to its complexity, and some users have found it awkward to use and difficult to manipulate.
Related: Body back buddy review
Pros
Durable and long-lasting
Firm and heavy
Designed to access every trigger point in the body
Massage more points at a time with less effort
Cons
More complex than most massage canes
Can be hard to manipulate for hitting certain muscles due to its intricate shape with so many knobs
The one-knobbed hook-like design of the Empower massage stick makes it simple and easy to pinpoint specific trigger points.
What's unique about it is that the knob on the end of the hook is that it's a lot bigger than most of the other back massage sticks.
This makes the Empower massage stick better suited to someone who is more sensitive and doesn't need a lot of pressure on a small trigger point.
Other than that, there aren't too many benefits of this massage stick over the other massage sticks.
If you're someone who is particularly sore around the trap area and new to massaging then this massage stick is relatively low-priced and should work well.
Otherwise, if you're someone who wants to target all areas of the body and break up knots with precision your best bet is to look at other options.
Pros
Great for beginners who are new to massage
Larger ball for less intensity
Simple
Two knobs for the back of the neck
Affordable
Cons
This is mainly for the trap and neck area only
Likely to snap if you put too much pressure
The ball isn't small enough to target small trigger points
The AccuStick is a uniquely shaped massage stick that has two knobs, one hook-like curve and two sharper corners.
It's marketed mainly as a tool to use after fitness training to enhance muscle recovery.
You can hold the stick with both hands and smooth it over your upper and lower leg muscles almost like a foam roller.
You can also use the hook over your shoulder to reach your upper back, neck and shoulders.
The drawback of the SKLZ AccuStick is that it's made of plastic that lends it some flexibility, and some users report it's not sturdy enough to apply the amount of pressure needed to relieve tight muscles.
It may be what you're looking for if you just want to boost circulation and speed up muscle recovery after a workout.
However, if you're looking for something more therapeutic to heal knotted, paining muscles, the Body Back Buddy or Thera Cane may be better suited for you.
Pros
Straightforward to use
Costs less than most massage canes
Cons
Too flimsy to provide more force
The LiBa Back and Neck Massager is like a smaller version of the Original Body Back Buddy, with 6 knobs instead of 11.
Having fewer knobs doesn't mean it's worse than the Body Back Buddy, however, as it's actually much more comfortable to hold than the body back buddy.
It also has a much smaller hook on the bottom rather than the traditional 's' shaped sticks so you do get a whole new design to play around with.
I found the smaller hook particularly useful if you want to apply a lot of pressure on your traps as it's easier to push downwards than the bigger hooks.
The other note that makes the LiBa back massager stand out is that it's quite a bit cheaper than the Body Back Buddy.
Granted it does have fewer knobs but it's just as well built and just as effective.
Pros
Smaller hook design offers more options
Nice to hold
Sturdy and well-built
Costs less than the Original Body Back Buddy
Cons
Some people may prefer more knobs
The Best Back Massage Stick: Recommendations
When it comes to massage canes, the Original Body Back Buddy is the cream of the crop.
I scored it highest for durability, and it has 11 massage knobs to give you more relief with less effort.
While other massage canes are too flexible and flimsy, I found the Body Back Buddy won't break, and it gives you the firmness you need to break up muscle knots.
At first, I thought the number of nodes was overkill and they were merely there as a selling point, but as I've discovered more knots around my back and neck, I've found that there is always a node I could dig into it with the Body Back Buddy.
I found the nodes right in the middle of the stick to be incredibly useful for releasing knots at the back of my neck.
Some people may find the Body Back Buddy a little overwhelming with so many knobs to use.
If you want something more simplistic and feel you don't need as many knobs as the Body Back Buddy, the Thera Cane is also a great option.
Other Self-Massage Tools for Your Back
If you want a different kind of massage there are other tools that may be more fitting for you than a massage cane.
Here are some of the options for at-home and on-the-go massaging.
Percussion Massagers
Percussive massage treats soft tissue pain and soreness anywhere in the body with hand-held electric percussion massagers that provide short, fast pulses that penetrate deep into soft tissues.
This type of massager gives you a lot of control, and one study found that it's as effective as getting a massage when it comes to reducing muscle pain and soreness after exercise.
Related: The Best Handheld Massager
Neck and Shoulder Massagers
Neck and shoulder massagers are electric massagers that have balls inside them that roll around in order to knead trigger points in your shoulder and neck muscles.
They're designed to fit by draping over your shoulders or attaching to the head of a chair.
If you find the right one for you, these are perfect for relieving tight traps and trigger points around the neck and shoulders.
Related: The Best Neck And Shoulder Massagers
Massage Chair Pillows
Massage pillows can provide the benefits of shiatsu massage.
They contain rollers that knead muscles and to provide a deep tissue massage that can help with muscle pain and provide general pain relief all over the body.
These devices are portable, light and very versatile.
Related: The Best Massage Pillows
Foam Rollers
Foam rollers are cylinder-shaped rolling tools that come in different sizes, textures and degrees of firmness.
They break up muscle knots and release tension as they roll over them, with your bodyweight and the floor providing compression.
They have a large surface area and are generally not that accurate in releasing trigger points on the back.
Related: The Best Foam Rollers
Massage Balls
Massage balls are similar to foam rollers, but they utilize a spherical shape to mimic the pressure created by a masseuse's palms or elbows.
Massage balls can be effective on the back, but if you are using them on your own, you must use the floor or a wall to compress the ball against your muscles so you can reduce tightness and restore blood flow.
Related: The Best Massage Balls
Back massage sticks are incredibly effective at dealing with the smallest and hardest to reach trigger points.
If you have a lot of them on your back that you cannot seem to reach, a back massage cane should provide you with the relief you are looking for.
It's possible to get started with at-home deep tissue massage work when you buy a massage cane.
Many massage cane brands provide guidebooks and/or online videos for training on how to use the product effectively.
Of course, it always helps to have a physical therapist or fitness coach help you get on the right track with self-massage techniques to prevent injury and get the most out of your massage work.