Cupping is an ancient Chinese therapy making a modern comeback in the Western world.
If you've ever seen a picture of someone sporting purplish circular spots on their back that look like bruises, you've seen massage cupping.
While the marks look intimidating, it's just a sensation that takes getting used to but isn't painful.
Cupping therapy works through suction or vacuuming of a small portion of your back at a time to draw blood and muscle tissue to the surface.
If you suffer from back tension, tightness or pain, poor circulation, low energy levels or inflammatory conditions like gout or arthritis, research indicates that cupping therapy could help.
Keep reading, because this post will give you the full scoop on cupping therapy, whether or not it's for you and how to go about finding the right cupping set to purchase.
In this article, I'm also going to review the best cupping sets for home use.
What is Cupping Therapy?
In cupping therapy, small glass or silicone cups are placed on the skin of your back that create suction.
Different cupping sets work in different ways.
Some create a vacuum within the cup by means of heat, while others utilize an air pump that you have to squeeze.
In a cupping therapy session, the cups are left on for anywhere between 5 and 20 minutes.
In some cupping therapy sessions, the cups are even used in a sliding motion over the back.
Once the cups are removed, the circular marks become apparent.
In Traditional Chinese Medicine, it's said that the darker these marks are, the more toxins and stagnant energy you had in these areas.
The marks typically fade over a period of 3 to 10 days.
How Does Cupping Therapy Work?
The technique was originally developed in Chinese medicine using animal horns to drain pus and blood from boils.
It then developed into a method of expelling stagnant energy, or "chi," and thereby restoring the natural flow of energy in the body [1].
Stagnant chi is thought to correspond to poor circulation of blood and lymphatic fluids, and vacuum cupping works by helping to draw toxins from the body and stimulate healing.
The suction breaks up stagnation, releasing the fascia and freeing tight muscles that are hugging onto bone.
Fresh blood then enters the area and helps restore optimal cellular functioning.
It's well known that applying pressure to tight muscles through massage therapy loosens them and restores blood flow.
Cupping is like an opposing action; it draws the muscles away from the body instead of pushing them into it, but has a similar effect of loosening them.
By creating space between layers of tissue, it helps fluids enter the tissues so that healing can occur and mobility can improve.
That's why cupping therapy sessions create the satisfying feeling of having had a deep tissue massage.
Is Vacuum Cupping Therapy Right for You?
In general, cupping improves overall health in anyone who tries it because it removes toxins and stimulates the flow of blood and chi, or vital energy.
Vacuum cupping therapy is especially beneficial if you're dealing with pain, inflammation, stress, anxiety, poor immunity, digestive complaints, insomnia or low energy levels [2].
For example, one study showed that cupping therapy worked better than progressive muscle relaxation in alleviating neck pain [3].
Some of the other benefits of cupping are skin firming and toning and the reduction of cellulite.
What to Look for in an Effective Cupping Set
Before you choose a cupping set you may want to consider a few of the following.
Dry Cupping vs. Wet Cupping
It's good to have the flexibility of a cupping set that enables you to do cupping with (dry cupping) or without oil.
When you use the cups with oil, you can glide them along your skin to promote circulation and "reverse massage" the muscles and fascia.
This style of cupping doesn't leave marks, but some cups aren't recommended to use with oil.
Ones that work well with oil give you more options.
Effective Suction
Suction is what makes cupping therapy effective, so it's the most critical aspect that makes or breaks a cupping set.
Great cups have great suction that isn't hard to achieve and maintain.
The suction may feel uncomfortable at first, but it shouldn't be painful. Still, it should be strong enough to leave marks.
Durability
Durability can be an issue with cheaper cups, as their suction can wane over time.
To get the most out of your cupping set, you need one that is made with quality materials and designed to withstand many uses.
Ease of Use
Unless your goal is to have the most authentic Chinese cupping therapy set that most closely mimics the traditional therapy with fire and glass, you want a set that's not just effective, but also makes it easy to use.
If it's too much of a hassle or a struggle to get your cups on, you may not end up using them as much and getting the most out of them.
Easy-to-use cups are ones you can use on your own, without the need for a therapist or friend to help you.
The Best Cupping Sets in 2023
In the past, you had to go to a specialist in Chinese medicine or a professional cupping service to have cupping therapy done for you.
Today, there are products you can buy that make it easy for you to benefit from this treatment at home.
Here are the best cupping sets out there that each have their own unique features and benefits:
The cupping therapy set from LURE Essentials is made of 100 per cent pure silicone and features cups that are different sizes for usage in different areas.
The best part about these cups, however, is that they're DIY friendly, since all you have to do is press them on and the suction is done for you.
There's no need to heat or pump the cups–just squeeze.
Besides being so user-friendly, they're also super durable, as they won't break the way glass cups easily do.
Literally, hundreds of customers have reported that these cups work to alleviate aches and pains.
Some who have tried other sets claim this one is the best.
The only main complaint some users have had with the EDGE cupping cups is that they don't provide enough suction as glass cups and that the material is too weak to provide therapeutic-grade treatment.
While some users have felt they couldn't get enough suction, others say these cups leave marks when left on for just a few minutes, indicating they're probably still doing the job.
Positives
Made with non-toxic and durable material
The set comes with different sizes of cups for treating different areas of your body
Negatives
The silicone cups may not provide as much suction as glass cups
Kangzhu Biomagnetic Set
The Kangzhu cupping biomagnetic chinese set utilizes plastic cups with a hand pump you can attach to each cup one at a time to create suction.
The set is very inexpensive, but the quality of materials suffers.
It's able to create suction, but users note that the suction wanes or gives out completely over time with regular use because the valves are not durable.
However, if you just want to give cupping therapy a try and want to get started with minimal risk, this is a good option, because it will work.
The cups come in different sizes and feature biomagnetic therapy as an added bonus.
The magnetic needles in the cups (which you can remove if you want) are designed to increase the attraction of toxins to the surface of your skin, where they're expelled from the body.
Positives
Lots of large and small cupping cups allow you to cover a wide surface area at a time
Hand pump to create suction
Biomagnetic therapy adds to the detoxifying effect of cupping therapy
Negatives
Not durable; suction wears out over time
Parts can easily break and replacement parts aren't included or sold separately
The cupping therapy set from Myofascial Releaser isn't just for your physical health; it's also geared toward restoring beauty by treating facial skin.
It comes with special small facial cups that reduce wrinkles and age spots by restoring blood flow and optimal health in your skin.
The set also comes with 18 multi-sized cupping cups and a smart carry case to hold everything together.
The cups in this set are made of Polycarbonate (PC) plastic rather than the usual Polystyrene (PS) plastic, meaning they can take a lot of pressure and aren't prone to cracking.
Another bonus is that this set comes with two hand pumps rather than one plus a detailed instruction manual on how to get started.
However, the biggest perk is likely to be their guarantee that you can get free replacement cups should any of them fail.
Overall, this cupping set has many happy users who praise the professionalism, quality and presentation of this set.
Positives
Includes smaller cups for use on your face
Comes with a smart-looking carrying case
Guarantee to replace broken cups
Negatives
Some users have reported broken sets on delivery
This glass fire cupping therapy set is designed to mimic the traditional Chinese cupping practice more accurately.
Its high-quality materials can potentially last you a lifetime of therapeutic use.
This is a 12 piece set that also comes with a few bonuses such as an alcohol burner glass, gua sha tool and tweezers.
There are many cupping products on the market that have an alternative take on cupping or are designed to make the practice more user-friendly.
But if you want the real deal, this one is for you.
You will have to use fire to create suction in the cups, and the therapy is very intense.
However, it's very effective in treating pain and providing all the other benefits of cupping therapy.
There's quite a procedure involved in creating the suction with a lighter and alcohol, but once you get past the learning curve and have some experience with it, you may never turn to any other cupping method.
Positives
Authentic fire cupping set that utilizes fire and glass
Made with durable high-quality materials that are built to last
Negatives
Less user-friendly than other types of sets
The cups break easily if dropped
No case to store products
The Hansol cupping therapy cups hold a great suction, but they're prone to cracking over time, as the plastic they're made with isn't durable enough to hold the suction.
Some cups have broken within one or two uses.
Many users find it hard to reach for self-application, and there's no extension tube included to make it easier.
Despite these drawbacks, it gets the job done by providing good suction as the air is pumped out.
While some people may prefer glass because it won't break from the suction, glass can always break if you drop it, so these plastic cups are a good alternative.
Positives
The plastic cups act like glass cups but are less breakable
Negatives
No extension tube included for self-application
Made of cheap plastic not guaranteed to last
This cupping set includes 8 silicone cups of different sizes.
They're durable and easy to use and clean, and can be applied with oil for gliding along the skin.
You pay a little more for these, but they're made with quality to last you indefinitely.
The amount of suction is controlled by how much air you squeeze from the cups.
While the manufacturers claim they're made to be easy for self-use, some users find them hard to seal onto the skin so that the suction can happen when squeezed.
Because there's no hand pump to remove the air, it's all up to you to squeeze it out of the cup by compressing it, and it's hard when placing it on a spot you can only reach with one hand.
That said, most customers have been really happy with the results using this product.
Meanwhile, most of the unhappy purchasers have found that glass cups or cups with pumps work better for them.
Negatives
Hard to squeeze the air out
Difficult to apply with one hand
The Bliss complete cupping set is geared toward facial spa treatments, as it includes 4 cups for use on your face to restore your complexion and fight ageing.
Two of these face cups are smaller and designed for use around your eyes.
The other 2 face cups are a bit larger and can be used elsewhere on your face.
The suction is created simply by squeezing, and most people use these cups for gliding along their skin.
It's easy to do so with these cups, and they can be used with oil or lotion to make it even easier.
If you want a more authentic Chinese cupping therapy experience, this is probably not the set for you.
On the other hand, if you've been looking for a product that provides the benefits of cupping for your skin, this set can help you tackle cellulite, wrinkles and more.
Positives
Includes small facial cups
Easy to use with oil or lotion for "wet cupping"
Negatives
Suction isn't as strong as some other cupping sets
Only includes 4 body cups and 3 of them are on the small side
We've seen all kinds of cupping sets so far from silicone to glass ones, to ones that create suction with fire and hand pumps.
The Achedaway Cupper is a little different to all of these.
It is a rechargeable cupping device that creates rhythmic suction with the option of red light therapy simultaneously.
With the red light therapy option, you get the added benefits of greater pain relief capabilities.
This cupping device has 5 different suction modes that include Wake Up Mode, Relaxing Mode, Massage Mode, Professional Mode and Powerful Mode.
Each suction mode's intensity can be further modified on a scale from 1 to 5.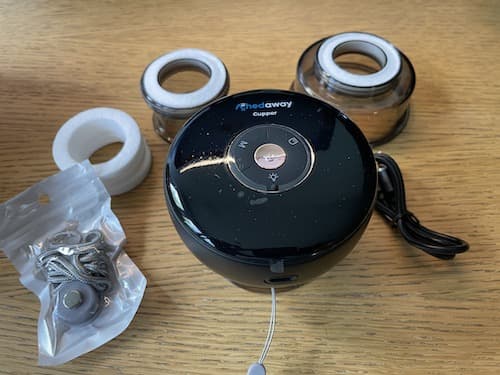 While the cupper is controllable via the buttons on top of the device you can also control it via the Archedaway App on your phone.
This makes it super convenient if you want to control the device while it is plastered onto those hard to reach areas such as your back.
The thing that stood out most for me about the Achedaway cupper is how powerful it is for such a compact device.
Even at the lowest intensity setting, it provided an extremely strong suction on my skin.
While this is great for experienced users, newbies may want to approach this with caution.
The one obvious con about this cupping set is that it's not really a set – you only get one cupper and it's not cheap.
For those who prefer to place many cups on them in one go, the price of buying many of these cups will make this method very costly.
That being said, if you want a cupper that is convenient, powerful and feature-rich this cupper fits the bill.
The Best Cupping Set: Recommendations
The best cupping set on this list is the Cupping Set from Myofascial Releaser.
It's the silicone variety that creates suction when you squeeze the air out.
It comes with two hand pumps to create suction, and is generally easy to use with one hand.
Besides its quality and durability, I've chosen this one as our top pick because it does a great job mimicking the traditional fire and glass cups, and doesn't have the pitfalls many other silicone cups have.
If you want a more practical alternative to traditional glass cups without missing out on the benefits of authentic Chinese cupping, this is your best option.
Warnings and Best Practices
The safety precautions you need depend on the style of cupping therapy you're performing.
Obviously, there are some basic safety precautions to take if you are using fire and glass cups, and you should have someone do it for you.
While cupping therapy is safer than it looks, it's always a good idea to have it done by a professional therapist the first time so you know what to expect, even if you choose to go with silicone or plastic cups.
It's also wise to get the consent of your doctor if you're taking any medications or have any skin conditions.
Getting Started with Cupping Therapy
If you've never tried cupping therapy before but are interested in natural remedies for pain relief, give cupping a try.
Many people who thought it looked strange or scary at first ended up thrilled they gave it a try.
It loosens muscles and provides myofascial release, rejuvenating the body every time.
If you enjoy a good massage or benefit from using a foam roller, chances are you'll like cupping therapy.
It's easy to get started with silicone cups because they're straightforward to use.